Customer Drop Offs
Customer drop offs are FREE of charge. There is a $50 fee per televisions or CRT monitors of any kind. Drop off hours are 8:00 am till 4:00 pm Monday thru Friday. Do NOT drop off after hours!
You will find a black container by our front door at 1815 Troy St., New Albany Indiana 47150. No televisions of any kind unless a $50 disposal fee per TV or CRT monitor is paid at front office. Please ring the doorbell for assistance.
Thanks, Bluegrass Recycle Team
………………………………………………….
We do NOT accept:
CRT monitors
Televisions
Major appliances
We are your friends and neighbors. Bluegrass Recycle is a privately owned local business. We are not funded by any state or government agency. We pay our employees a nice high rate because we know what it takes a family to survive. We pay our taxes, we buy our supplies, we use local employees, we live here and our kids go to school here.
We provide free pick up services from business locations with qualifying IT equipment, such as i-series computers, servers and laptops. We also provide asset tag removal on all equipment and on-site physical hard drive destruction (see rates above).
Bluegrass Recycle provides electronics recycling in the entire region including, but not limited to Kentucky and Indiana.
Our goal at Bluegrass Recycle is to provide quality e-waste and computer recycling services in an effort to reduce the amount of hazardous waste that is generated from electronics in our landfills. Every effort is made to use the electronics we collect.
We believe in the philosophy of "Repair, Re-use, and then Recycle."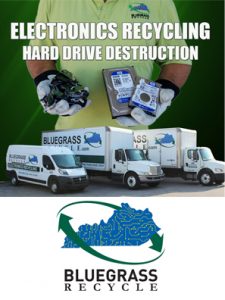 Items we Recycle Include:
Computers
LCD Monitors (No CRT)
Laptops
Printers
Fax Machines
Cell Phones
Keyboards
Mice
Stereo Equipment
Network Equipment
Servers
Telecom Equipment
Phones/Phone Cords
DVD Players
Copy Machines
All Business and Office Electronics
Medical Equipment with NO Bio-Hazards
We no longer accept CRT Monitors or TVs without a $50 fee
Online – Fill out the form below – Response time is usually the same day via email
Phone – (502) RECYCLE / (502)-732-9253