X-Ray Film
X-Ray film recycling
Complete department cleanouts
We can filter out MAMMO packs before removing film
Professional service – No disruption to hospital services
Anywhere in the United States
Possible asset recovery to your facility
Drop us a line. (502) RECYCLE
Our xray cleanout crew is experienced and we know we can trust them. How you ask? Because we are the crew, we don't outsource our work because your hospital is holding us responsible to make sure thing go smoothly, that can't be done by us making a call to a "Temp service" across the country. Be carful who you trust and allow into your secure records areas. We have the experience cleaning out x-ray film departments as well as sorting out mammo you may need to keep on site.
We really are your friends and neighbors. We pay our employees well because we know what it takes a family to survive. We pay our taxes, we buy our supplies, we use local employees, we live here and our kids go to school here. The owner and most of the employees were even born and raised right here and are now raising families here.
We provide free pick up services from business locations with qualifying IT equipment, such as Windows 7 and newer computers, servers and laptops. We also provide asset tag removal on all equipment and offer an on-site physical hard drive destruction service (see rates on "Hard Drive Shredding" page).
Bluegrass Recycle provides electronics recycling in the entire region including, but not limited to Kentucky and Indiana. If your in the United States and have enough newer computers, and need recycling and/or hard drive shredding services, we are willing to come to you. Drop us a line. (502) RECYCLE
Our goal at Bluegrass Recycle is to provide quality e-waste and computer recycling services in an effort to reduce the amount of hazardous waste that is generated from electronics in our landfills. Every effort is made to use the electronics we collect.
We believe in the philosophy of "Repair, Re-use, and then Recycle."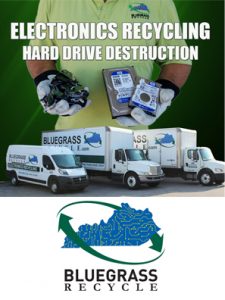 Items we Recycle Include:
Computers
LCD Monitors (No CRT)
Laptops
Printers
Fax Machines
Cell Phones
Keyboards
Mice
Stereo Equipment
Network Equipment
Servers
Telecom Equipment
Phones/Phone Cords
DVD Players
Copy Machines
All Business and Office Electronics
Medical Equipment with NO Bio-Hazards
We no longer accept CRT Monitors or TVs
The cathode-ray tube (CRT) is a vacuum tube that contains one or more electron guns and a phosphorescent screen, and is used to display images. It modulates, accelerates, and deflects electron beam onto the screen to create the images. CRT monitors are the big old heavy monitors. WE DO NOT ACCEPT CRT MONITORS.
Online – Fill out the form below – Response time is usually the same day via email
Phone – (502) RECYCLE / (502)-732-9253