Business Pickup Service
Business addresses – No residential pickups
Items must be readily accessible close to the door for driver
We do NOT navigate steps as we use rolling carts
Use our "Schedule Pickup" form below for a free quote
We no longer accept CRT Monitors or TVs
We provide free pick up services from business locations with qualifying IT equipment, such as Windows 7 and newer computers, servers and laptops. We also provide asset tag removal on all equipment and offer an on-site physical hard drive destruction service (see rates on "Hard Drive Shredding" page).
Bluegrass Recycle provides electronics recycling in the entire region including, but not limited to Kentucky and Indiana. If your in the United States and have enough newer computers, and need recycling and/or hard drive shredding services, we are willing to come to you. Drop us a line.
We also provide X-Ray film disposal, cleanout and recovery services. We can filter out MAMMO or other media as needed before removing film. Drop us a line.
Our goal at Bluegrass Recycle is to provide quality e-waste and computer recycling services in an effort to reduce the amount of hazardous waste that is generated from electronics in our landfills. Every effort is made to use the electronics we collect.
We believe in the philosophy of "Repair, Re-use, and then Recycle."
Schedule a Pickup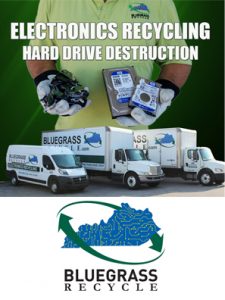 Items we Recycle Include:
Computers
LCD Monitors (No CRT)
Laptops
Printers
Fax Machines
Xray Film
Cell Phones
Keyboards
Mice
Stereo Equipment
Network Equipment
Servers
Telecom Equipment
Phones/Phone Cords
DVD Players
Copy Machines
All Business and Office Electronics
Medical Equipment with NO Bio-Hazards
We no longer accept CRT Monitors or TVs
Online – Fill out the form below – Response time is usually the same day via email
Phone – (502) RECYCLE / (502)-732-9253